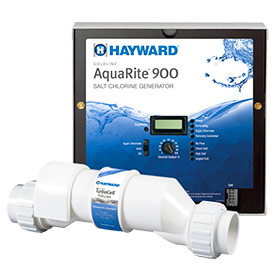 Chlorine! Get your FREE Chlorine!
World's #1 Saltwater pool System 
AquaRite 940 is the perfect solution for installing a salt chlorinator. It offers the most convenient alternative to conventional chlorine—bringing pools the very best in soft, silky, perfectly sanitized water. 
 Features & Benefits: 
Best water quality available delivers crystal clear water with a soft, silk feel that is always ready for swimming. No more red eyes or irritated skin.
Extended Life TurboCell produces 25% more chlorine over its lifetime, cutting annual chlorine costs by 50%.
Industry's best 4-year warranty
Simple homeowner operation with the ability to adjust chlorine output from 0–100%

NSF certified for chlorine delivery rates

Easy to understand digital display
Automatic cell cleaning using reverse polarity technology
Super chlorinate function
Single unit for 120VAC/240VAC 50/60Hz input
 Hayward AQR940 Aquarite Up To 40,000 Gallons Chlorine Generator With 4 Year Extended Life Cell Warranty – Sale Price $1849.99 (Regular Price $1999.99) Save – $150.00!
Sale Ends – 09/30/2022
Or contact us by filling out this form